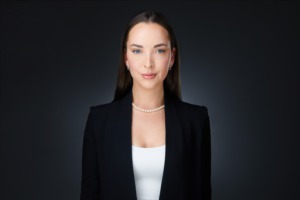 Catherine grew up in Edmonton, AB. She didn't always know she wanted to be a realtor. She worked in the hospitality industry while she attended Grant MacEwan University where she graduated with a Bachelor of Commerce, with the hopes of climbing the corporate ladder. It wasn't until she bought her first home, at 22, when she began to see the benefits of home ownership and investing in real estate. That's when she knew real estate was a path that she wanted to pursue.
Catherine loves how dynamic real estate is, she feels that she's constantly evolving as a person and professionally to stay up to date with clients' needs, trends, and the market. Coming from the hospitality industry, Catherine has developed a passion for helping people, a deep understanding of customer service, and the importance of upholding the highest standards.
When she's not working, you'll find Catherine spending time outdoors with her two dogs, Daisy and Lily, exploring Edmonton, or traveling!